iRig Nano Amp
IKMT_IP-NANOAMP-IN
The versatile micro amp with built-in iOS interface
What if you could carry in the palm of your hand a guitar amp that had access to virtually any guitar sound you can imagine? And what if you could drive a 4x12" cab with it with no additional gear needed? Now you can with the new
iRig Nano Amp
— the first micro guitar amp and interface for the mobile guitarist. iRig Nano Amp is a super-compact battery-powered self contained micro amp and interface for iOS that you can use by itself, with headphones or even an external speaker cabinet — this power-packed amazing little amp can drive up to a 4x12" guitar cab! But what makes it more versatile than any other micro amp is that it features the
iRig circuitry
so you can plug your iPhone or iPad into it with the included TRRS cable and tap into the limitless world of
AmpliTube
guitar tone and more on your iPhone and iPad.
Dual Mode Operation — AMP/DEVICE
What makes iRig Nano Amp so unique is that you can operate it in two different modes: AMP & DEVICE. In AMP mode it's a standalone amp for impromptu practice anywhere. In DEVICE mode you use it as an interface and amp for your iOS device. Plus, in both modes you can use the built-in speaker or hook up an external speaker cabinet — up to a 4x12" cab — for more volume and tonal clarity. iRig Nano Amp is the most versatile, feature rich micro amp in the market and provides you with outstanding value and performance.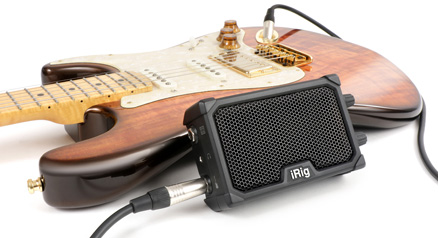 AMP mode
iRig Nano Amp operates as a straight up guitar amp and features a British tone stack circuit with gain and volume controls for practice on the go. Simply plug in your guitar to the 1/4" guitar input, adjust your volume and gain settings, select the output type NORMAL/BRIGHT and rock out anywhere you happen to be. The British tone circuit delivers sparkling clean tones at lower gain settings and a cascading wave of overdrive when cranking the gain to the upper limits.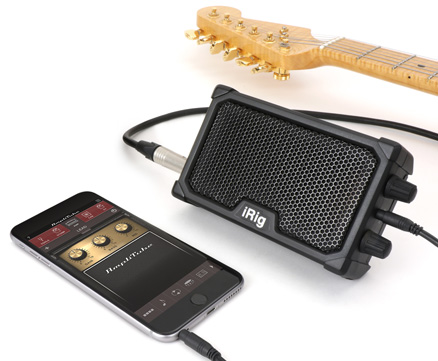 DEVICE mode
iRig Nano Amp is also an interface and output for your iOS device thanks to its integrated iRig circuit. Use the included TRRS cable to hook iRig Nano Amp in DEVICE mode to your iPhone or iPad and plug in to the amazing toneful world of AmpliTube — the ultimate guitar and bass tone studio — to play, practice and record anywhere, any time. This is great for grabbing ideas in the AmpliTube 4-track looper or recording studio, or just practicing with your favorite AmpliTube gear and more.
When used in DEVICE mode, the internal tone stack circuit is bypassed and the volume knob controls the overall output of the amp. This lets you hear only the processed signal coming from your iOS device with no additional amp coloration. Also in DEVICE mode, the 1/8" headphone jack is active so you can play/record in the privacy of your own headspace.
Drive a Cab
iRig Nano Amp features a 1/4" speaker out jack that — get this — can drive up to a 4x12" cabinet. When you plug in, you'll be floored by the volume and tonal definition that iRig Nano Amp provides.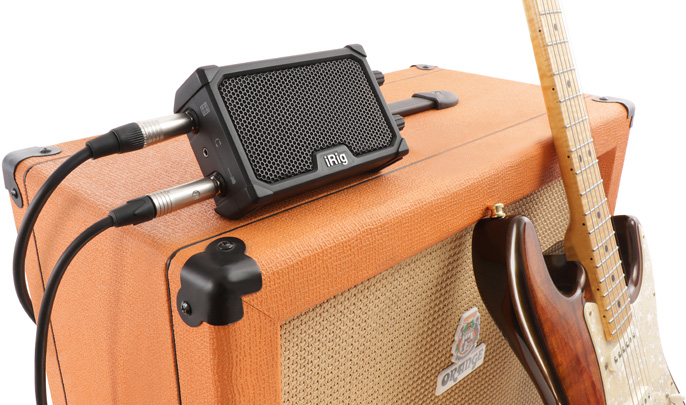 You can connect an external cab in both AMP and DEVICE modes giving you the most flexibility of any "micro" amp out there.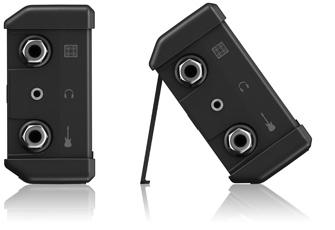 Portable versatility
iRig Nano Amp is compact — it's just slightly larger than an iPhone, fits in any gig bag or the palm of your hand and features a handy "kickstand" for tilting back the unit for better monitoring. Inside, iRig Nano Amp powers a 3" speaker with a 3-watt class A/B power amp. When in Amp mode, you set your overall output volume with the volume control, then dial in just the right amount of saturation and distortion for your playing pleasure.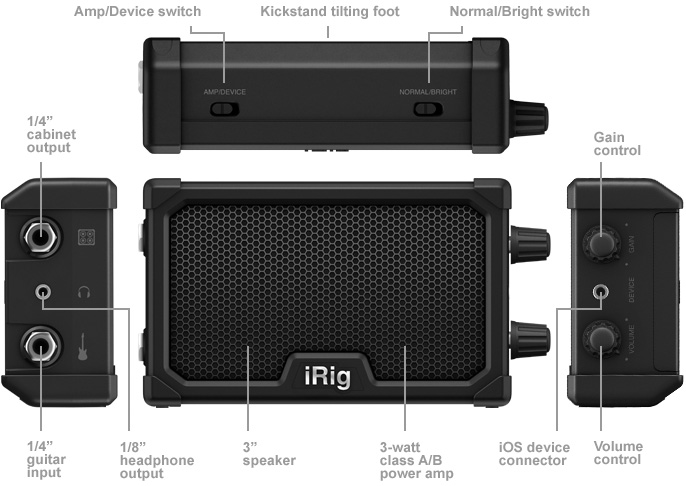 iRig Nano Amp features a 1/4" guitar input, a 1/4" speaker output, an 1/8" headphone jack, is powered by 3 AA batteries (included) and comes complete with a TRRS cable for connection to an iOS device. It can be used with 3 output monitoring options — with headphones for private practice and recording in DEVICE mode, and with the internal speaker active, or with an external speaker cabinet connected to the 1/4" speaker out in both DEVICE and AMP modes. When used with headphones or an external cab, the internal speaker can be muted with the volume control knob.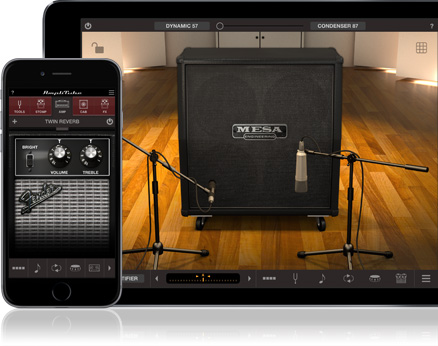 Tap into the limitless guitar tone with AmpliTube
iRig Nano Amp features the famous
iRig analog interface circuit
for iOS. This means you can use iRig Nano Amp to connect your guitar to your iOS device with the included TRRS cable and tap into the tones of
AmpliTube iOS
— the leading guitar tone studio app featuring gear from the world's top manufacturers like
Fender®
,
Orange®
,
MESA/Boogie®
and more! AmpliTube and iRig Nano Amp gives players a complete mobile tone and recording solution.
With iRig Nano Amp in your gig bag, your amp is always close at hand!
---
We Also Recommend