Yamaha YTS-26 Student Tenor Saxophone
YTS26/CN
Yamaha Saxophones are considered by many to be the best in the world, and offer a full range from Custom and Pro models, to intermediate and standard models. All feature highly accurate intonation, warm tone, and a quick response. Yamaha tenor Saxophones are characterised by a highly expressive tone, comfortable playability and extremely accurate intonation. 
New neck receiver with a durable screw

A redesigned neck receiver promotes a quick response and ease of play while also increasing the durability of the mechanism.
Improved Low B-C# connection
An improved mechanism from low B-C# ensures the consistent closing of the low C# key and promotes a clear response from notes in the low range of the instrument.
Adjustable thumb-rest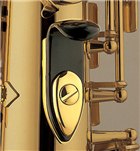 All Yamaha saxophones feature an adjustable thumb-rest to allow for precise and comfortable hand and fingering position.
Nickel-plated keys
Durable and resistant to wear.
---
We Also Recommend